This year in English 9 with Ms. Dunn we are doing a project called, "You and the World." In this Project each student picks a current problem or situation that they are interested in, and researches and blogs about it. This is my first blog and the event I chose to talk to everyone about is the African diamond trade.
The African diamond trade is a complex fight/ civil war between the Government and the Rebels. I have been interested in this issue ever since the movie Blood Diamond came out. I was so confused at why these awful things were happening I decided to do a little research. Through my research I discovered that when the rebels come to a village they kill most of the citizens, but with others they either cut their arms off or take men and children to become workers or soldiers. Learning about all of these awful things has taught me that when you truly want something with a big group of people, you will stop at nothing to get it. If you think about it, diamonds are just not so common crystals. They are only valuable because they look nice. I wonder if anything could be made valuable just because its nice looking. Think about it.
In my next post I will talk more about where these diamonds are coming from and where they are ending up. Below is a picture of the diamond miners and below that is my sources. Thanks for reading!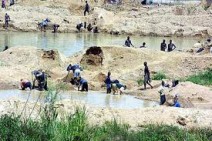 Here
is one link.
Here
is another.
Here
is 1 more.