Our tech teacher is having us create a slide based off of a former project, our coat of arms, in which describes everything about ourselves. This project is a way to show the right way to design and present a powerpoint. Little details make a huge difference when it comes to power points. The following script will describe why every decision of the design of this power point was made. There will also be many vocabulary words included in order to portray reasons behind everything. You will then see another slide, similar to the first one but with some major changes. You will see the differences I made in my slide after being critiqued by my classmates. I will also reflect on this whole project process.
When beginning my powerpoint, I decided that the size and shape of my name would be very large and bold. The whole slide is about me, I figured that the important piece to introduce would be my name, which is why I made it stand out. Also, after learning that the human eye starts at the top right hand corner and works it way around clock wise, I decided the alignment of my images would follow that pattern. I decided to make the contrast of my photos very light so that they didn't overpower the words, even though they would be larger. All of the pictures have the same contrast in order to show repetition. I left the slide background to be empty, since there are several images. I decided that the color and shape of all of the words would be bright and bold to give you a main idea of the picture so you won't sen so much time staring at them, and also to make them stand out from the images. All of the words in my slide are sans serif, to make them catch people's eyes.
BEFORE-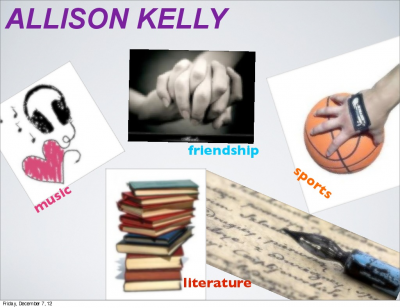 This project helped me learned so much. I hope the script helped you understand the powerpoint a little more, and also help you to understand why everything was done.
AFTER-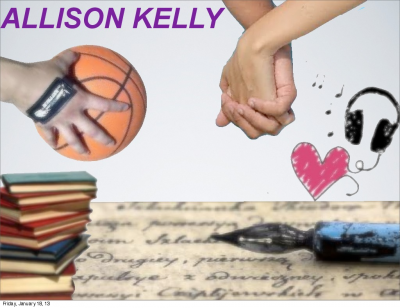 After having the class critique my old slide, I learned a lot of new ways to make my slide so much better. Well I started out by changing my pictures around by using Alpha to blur out the backgrounds, making it look a lot better. I also got rid of all of the words because they were things that I could just say in the presentation. I enlarged my pictures and moved them around a little to make them more noticeable and take up more space since the words were taken out. I kept my name as the boldest thing on my slide because I still feel it's the most important thing. I also left the pictures blurred out so that my name stands out more. I think my slide has improved so much after hearing everyones comments.