​What I decided to do my second art project was make an igloo out of sugar cubes. At first I thought it was going to be a simple task because all I had to do was make a circle and continue it up until it made a dome looking shape, but I was incorrect about my hypothesis. It started out alright at first then once I realize that this is going to continue to make only a barrier I stopped.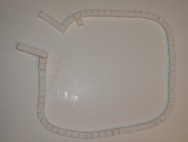 This is when I started the project and got the shape of the igloo. After building it for awhile it just wouldn't look like a dome.
That what the side of the wall looks like.
Since the igloo did not work out as I planed because the Elmer's glue started to degrade the sugar cube, I decided to draw pokémon instead. I drew pikachu and togepi.
PIKACHU



TOGEPI

I learned that things are hard then they seem but if you take it step by step it becomes a lot easier. I enjoyed this quarter project and I am determined to work harder on my next couple projects to come.