When I was assigned to create one slide to sum up who I am, or what represents me, I was stumped. I didn't know what I could possibly use to represent me without having a cluttered mess. I know I hate when a slide is bombarded with things. So trying to design a slide that captures everyones attention & can be quickly understood wasn't the easiest thing.
I made me slides with a deep blood red to represent the people I loved that I have lost. I put Victoria Secrets PINK on my slide with the caption 'be comfortable, because I feel as if you shouldn't have to change who you are and what you want to please other people. Adam Levine, who I love, bleeds off of the page a little to represent how much I adore him. I also have a music note half on his picture and the background. Every day I listen to music, its a big part of my life, so it needed to be expressed. Next to him I have the phrase "Love Life" with an Italian flag bleeding half off the page. It show's to that I love my life, and I love who I am.
Lastly, in my lower right corner I have the lovely late Marilyn Monroe and with one of her many wise quotes. "The woman who is known only through a man is known wrong." I used this quote to help represent how I want to be. I don't want to be defined by a man, I want to be my own. Be myself, and independent woman.
A lot, well most of my decision making was effected on whet would represent my style the most. What would represent me the best. When I did my text size, I wanted something that could stand out and be read, while not taking the attention away from what I would be saying. Creating this slide made me realize how hard it is to keep someone attention, without boring them.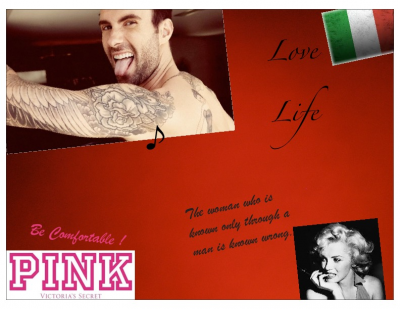 Reflection:
Going into presentation day I thought my slide was good. That was up until I seen the criticism that my fellow classmates were getting on slides I thought were really good. But it could have been better. I have not had the chance to present and get criticism for myself, but taking into consideration of what others received, I made changes to my slide.