Capstone Abstract
For my capstone, I created and ran an Etsy shop where I sold my original artwork. I sold greeting cards, watercolor paintings, collages, and different customized items that I painted/collaged on such as tote bags or jewelry boxes. All the proceeds from the sales I made went to Philadelphia's Mural Arts Program, an organization I am passionate about. When my capstone was finished, I was able to raise over 400$. My capstone process started with research and inquiry, where I learned how to best run my Etsy shop and fleshed out the particulars of my project with the help from my parents and mentor. I then worked hard to amass diverse a body of work that I could sell and set up my shop. Finally, I photographed my products and listed them on my site, marketed my site through social media and email, and shipped out orders. I had to adapt to obstacles throughout my process and not everything turned out as planned, especially because of the impact of COVID-19. Despite this, I am really proud of what I was able to accomplish with my Capstone. I chose to do this project because it combines two things that I am passionate about, art and helping others. It was amazing to be able to let myself have full reign over this project creatively and translate that into a digital business model, and to engage in my passions in a way that will make a difference for the people of my city.
Capstone Deliverables
Link to my Etsy shop: https://www.etsy.com/shop/marenlambarts?ref=seller-platform-mcnav
Screencaps of my Etsy shop: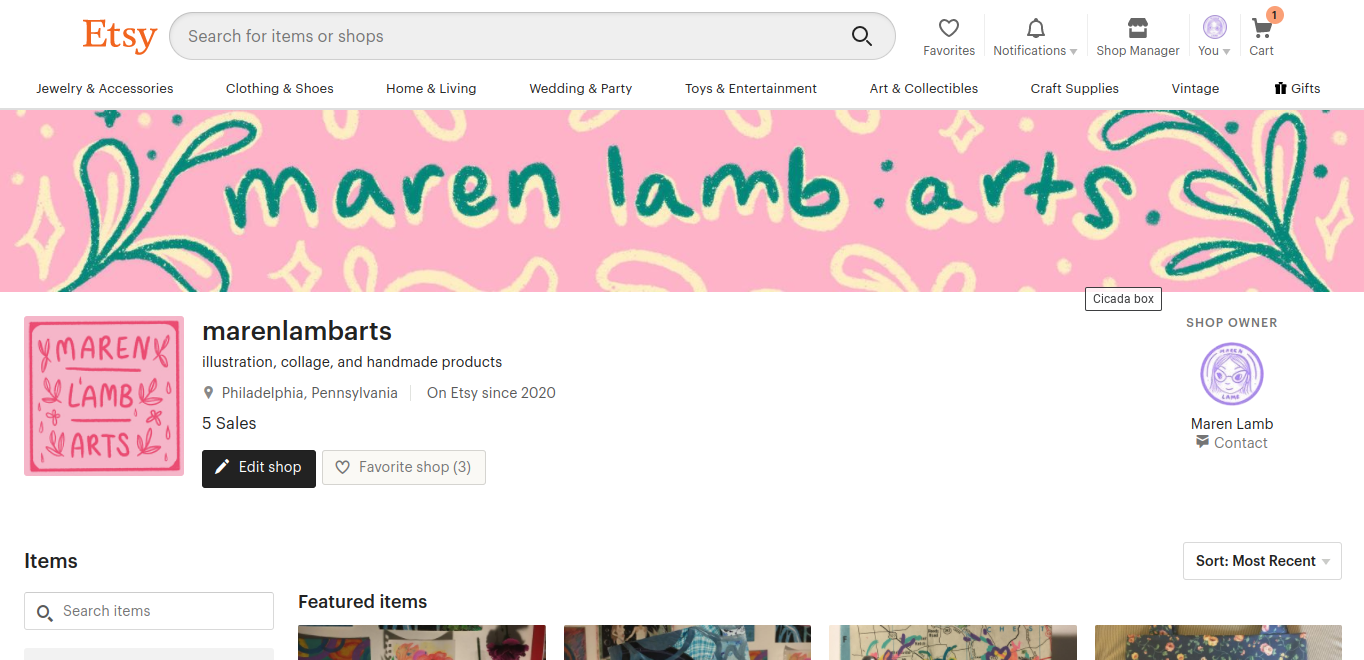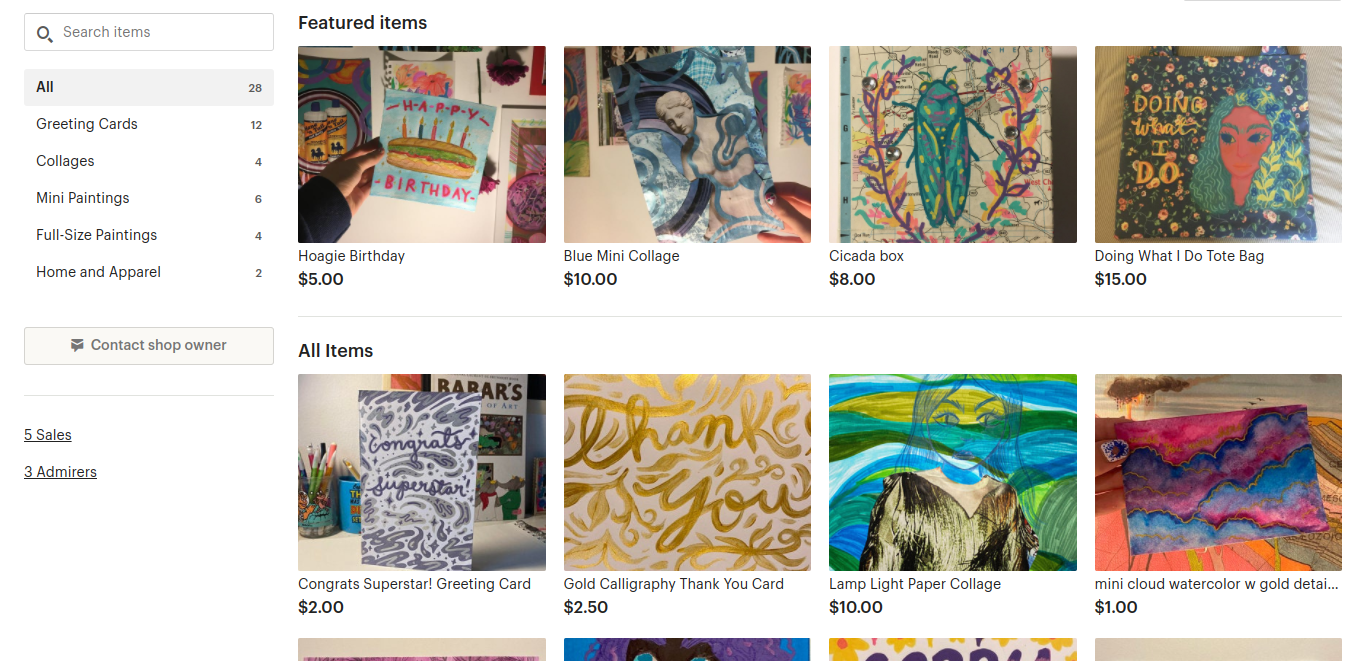 Annotated Bibliography
"7 Essential Types of Product Photos." Etsy, www.etsy.com/seller-handbook/article/7-essential-types-of-product-photos/22504064051.
This source is another one that has to with taking pictures of your Etsy items. It's an official Etsy article, which I think is the best because it includes some inside knowledge of the platform. It goes into a bunch of different types of shots that are good to include when you are listing a product online. I never thought to have a scale shot or one that shows the product in action. It also made me think about how I will get clean studio shots for my products. I will need good lighting, a blank background, and a good camera.
"7 Steps to a Successful Start on Etsy." Etsy, www.etsy.com/seller-handbook/article/7-steps-to-a-successful-start-on-etsy/22421860924.
This source gave me a baseline of the basics of starting an Etsy shop. I like that it is straight from the source where I will be making my site, so the steps are approved by it. It gave real examples of past Etsy users and how they were able to manage a shop. I was particularly inspired by the section about setting attainable goals, and used that to create my goal of raising 100$ for the Philly Mural Arts Program. I also thought that the advice on making keywords would come in very handy.
"Best Selling Items- Cards." Etsy.com, Etsy, www.etsy.com/search?q=best selling items cards.
This source is the best selling greeting cards Etsy page. I will use it to look at the pages of the people who are selling the most and look at their designs and setup. I want to learn from those accounts so I can make the most successful shop possible. I noticed that a lot of the greeting cards have included humor or pop culture references so I will definitely keep that in mind when I continue to make mine. In the future, I will look at the tags that people used to list their items with so I can use those some tags for my items.
CBS. "Top Philadelphia Arts Programs To Support." CBS Philly, CBS Philly, 23 Apr. 2012, philadelphia.cbslocal.com/top-lists/top-philadelphia-arts-programs-to-support/.
This source was very helpful in figuring out what organization I wanted to donate to. I definitely wanted to support something having to do with the arts, so I started with that idea and found this source. Each organization had different pros and cons, and going through that list and made me realize what was important to me in an organization. While I didn't end up using any of the organizations it mentioned, it let me think of the scope of the city and ultimately led me to the Philly mural arts program, which is where I've decided I'll donate.
Dizon, Anna. "Top 30 Tips for Selling on Etsy From the Pros." Fit Small Business, 19 Dec. 2019, fitsmallbusiness.com/selling-on-etsy-tips/.
I really like this source because it includes testimony from real Etsy users to show what works and what doesn't work in running a shop. A lot of them mentioned the use of keywords, which I haven't really thought about. One mentioned the use of a business card that would be included with orders, and I think I will definitely use that to add to the personal vibe of my site. Another tip had to do with making sure you don't infringe copyright, which definitely could be an issue with the slogans on my greeting cards.
Furgison, Lisa, et al. "4 Mistakes That Will Tank Your Etsy Shop -." Bplans Blog, 16 Feb. 2018, articles.bplans.com/4-mistakes-that-will-tank-your-etsy-store/.
I obviously don't want my shop to fail, and I liked that this article specifically goes into the don'ts of having an Etsy shop. It was specifically interesting to hear about taking photos, because I hadn't really thought about how the product actually looks online being different than in real life. Same thing with item descriptions. I need to make them sound personal and unique, according to this source. Same thing with search engine optimization. I thought that marketing and views had only to do with social media and getting the word out, but I also have to think about random strangers searching my items.
Pilon, Annie. "10 Awesome Tips for Starting an Etsy Business." Small Business Trends, 25 Dec. 2018, smallbiztrends.com/2018/06/starting-an-etsy-business.html.
This source was very helpful in giving tips on handling the financial side of my Etsy shop. I have to think a lot about what is going to be appropriate pricing for my products, and this article goes into that. It states that you must always consider time, materials, and profit when finally pricing an item, and I think that that is a great reminder. It also talks about investing in shipping supplies, which I had never thought of. I think it opened the door for a lot of questions about how I should ship certain delicate items. Overall, it made me think more critically about the practical aspects of the store.
"Restorative Justice." Mural Arts Philadelphia, www.muralarts.org/program/restorative-justice/.
This source is what ultimately made me decide to donate to Mural Arts Philadelphia when my capstone is over. I really loved learning about this program and thought that it was something really worthwhile to donate to. On the website, it talks about the effectiveness of the restorative justice program and I was very impressed by it. I felt that I understood much better what I would be giving my money to. It's just something that I really stand for, and that is why I decided to include it in my project.
Sonsev, Veronika. "Need For Speed: Etsy Shows That Some Items Are Worth Waiting For." Forbes, Forbes Magazine, 22 May 2019, www.forbes.com/sites/veronikasonsev/2019/05/22/need-for-speed-etsy-shows-that-some-items-are-worth-waiting-for/#51580bc25599.
This source was useful to me because it showed an outside perspective on Etsy from a major business publication. The source talks a lot about the uniqueness factor of an Etsy purchase. I have to make sure that my products are things that cannot be bought anywhere. It gave a lot of good stats about the demographics of Etsy and who would be viewing my products. It also mentioned that the personal customer-seller relationship also contributes to Etsy's success, so I will keep that in mind and try and add some personal touches.
"Want More Studio Time? 5 Killer Productivity Tips for Artists." Artwork Archive, www.artworkarchive.com/blog/want-more-studio-time-5-killer-productivity-tips-for-artists.
This source was very helpful for me in the practical work side of things. I struggle with staying on-task, especially with large scale projects like this one. I think that I am most likely to be derailed with my art, so I want to use the tips from this source to get ahead of that. I think I learned that I might have to work on times that aren't specifically designated for capstone, but when I feel most creative and ready to work. I liked the idea that the article presented that when I am done with working on my capstone for the day, I should be intentional about leaving the work in the past and moving on with my day.