For the last installment of my series of blogs (you can find my first two blogs
here
and
here
about the privatization of public school, I will be creating a "Post for Change" or a blog post about what I have done to create change about this issue.
Before I educated myself about this issue, there were many others already involved, planning, getting organized, and making their voices heard. I stumbled across an issue that many people feel very passionately about. I am happy to say that I am one of those people now, too.
There have been community meetings with the Philadelphia School Reform Commission so that the community can voice their concerns about the proposed plan to close schools and possibly privatize several. To elicit change in this topic, I attended one of these meetings at Girls High School on Thursday, May 24. Below is a video clip of me speaking at the hearing.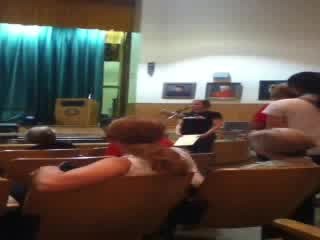 After I was done speaking, several people approached me asking if they could use my short speech for several different things, which made me feel great. At that moment I knew that I had made an, albeit small, change. On Thursday, May 30

th

, the School Reform Commission will vote on what to do. There will be a large gathering outside of the School District Building, In order to keep creating change in my community, I will be part of the gathering outside to voice the concerns of the community. This way, the SCR cannot ignore us.

The following are a few pictures that I took at the meeting on May 24th, and a few photographs of another small meeting that occurred on Tuesday, May 22nd which the School Reform Commission did not attend.
Community members writing down what the believe needs to happen in public schools at Tuesday's meeting.
SRC Member Feather Houstoun at Thursday's meeting
SRC Member Lorene Cary at Thursday's meeting.
Community members holding signs at Thursday's meeting.
In closing, I would like to acknowledge Lisa Haver, a writer, retired teacher and education activist who I contacted for further help understanding privatization, and who invited me to come to community meetings. I would also like to acknowledge my mother for taking me to the meetings.
For those who are interested, come to 440 N Broad Street outside of the School District of Philadelphia to make sure that the SRC hears your voice! I you cannot attend; you can live stream it from your computer here. It is my opinion that my education, and the education of my friends is in jeopardy, and it is our duty to make sure that we get the education that is our right!
You can view my bibliography
here
.