This blog is last in a series of three that discussed and explored the ethics and judicial standings of copyright infringement, namely, internet piracy. In my last two blogs, I gained a knowledge of the topic and did some investigations of my own.
Piracy and You
is mainly about the acts SOPA, PIPA, and CISPA.
Internet Piracy and Morality
is about how to make the decision yourself and about the lack of information given to the public. Doing this research has exposed me to a wide array of opinions, bills, laws, and movements. But are these different acts making a change? And if so, in which direction? The problem is awareness. People need to know, and we need to be the ones who tell them.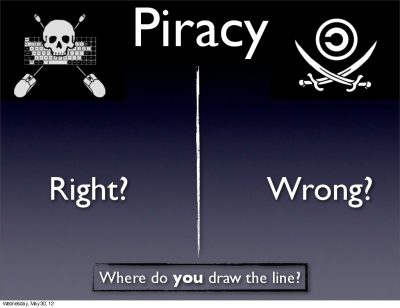 This piece of original content is an example of how a question or statement can invoke thought in a person. The goal of this poster is to make the viewer think about piracy in a new light. It allows them to take a step back and question what they are told. I think that piracy is a decision. It is up to the pirate to decide if they are breaking their own moral standing. With this poster I am getting the word out, spreading the knowledge and asking each viewer to look inside themselves and think about their actions or standpoint.

I conducted my own
research
which gave me interesting results to work with. Many who were surveyed admitted that they or someone they knew had committed internet piracy and were against censorship laws, while another large portion of these people were severely uninformed and had no clues as to the specifics of the topic. This shows us something. There is always a need for information and learning in our communities. We need to be the ones to teach and inform the peoples of our communities about this diverse topic. The way to go about doing this is to talk to the people we work with, play with, and live with in order to spread the word.
This picture pretty much sums up my opinion on piracy. I believe that it is a crime, but a much lesser one, and deserving of much less punishment. While I'll admit that copyright infringement holds much weight in the way of theft for some, for me it does not. But as always, the decision is up to you.
You
decide how you will live
your
life, and don't let anyone take that away from you. This is Gabriel Musselman. I hope you have found my blogs both thoughtful and intriguing, and I hope to bring my opinions to the world at other times and in other ways. Thank you.