My goal for this slide is to make it easy to understand and appealing to the eye. I made one of my pictures bleed and overlap to make it personal. I learned about these techniques from the Presentation Zen website. Another thing I added to my slide were facts and little details about my self. I believe this slide is interesting and will grasp the attention of the reader.
I chose images that meant something to me personally. I also only chose three pictures and balanced them out diagonally across the slide.This made the slide more appealing to the eyes. I chose the Canadian Flag to because I love Canada and I also have a picture of the hunger games trilogy. The hunger games is one of my favorite trilogy. Then I have a picture of the three top colleges that I would love to attend. Also to end off my slide I added one of my favorite quotes by Malcolm X. The quote has a really good meaning to it and tell students and kids that the only way to succeed in life is to be educated.Also for my slide I left some negative space so it would not look confusing and cluttered.
I am very pleased with the fact that I now know how to make a slide look interesting and will apply this to future assignments. These techniques are also used in advertisements.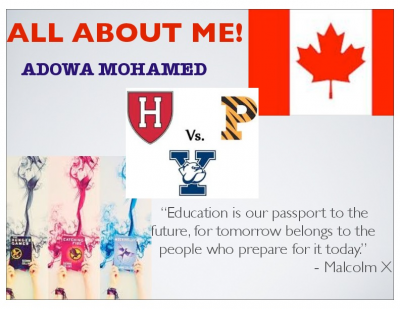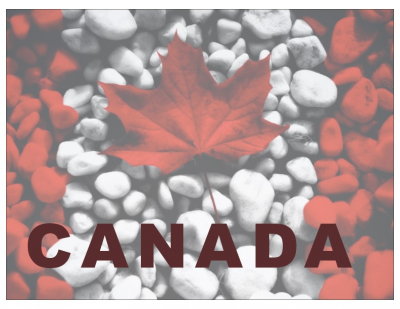 ​

Reflection:

For my new slide I focused more on one topic which is Canada and then I focused on one color. This slide is better then the previous one because the other one had to many pictures that had nothing to do with each other. Then I also focused on the topic "Canada" and made the background of my slide the Canadian flag. This slide was nice and simple and to the point. I really feel confident that this slide is more appealing to the eyes of the reader.