Before creating this slide, I watched a video about how advertisers make billboards that capture the attention of its viewers. I learned that these advertisers use "empty space" as an advantage. They leave the people looking at the billboards wondering what's next, but they know what the billboard is about. Because of this, people might be more likely to go into the store. Another thing that advertisers to is let the pictures " bleed" off the page. This basically means that when people look at this picture, they show believe that the picture continues off the page and goes on further. Throughout this project, I had a lot of trouble. I didn't know how to express myself in one slide. However, as the project went along, I learned that not everything has to in many words. This meant one thing to me: just be simple! There is no need to try to make a long power point and add all these effects to be "cool". One slide can express all you stand for and how you are like as a person.
This picture best represents me because I am a very bubbly person, hence the bubble. This picture also represents my belief. I always believe that everybody is just a small part in this word and each person has something that makes them unique. Also, I think that a lot of people choose to keep what makes them special inside.This is why the bubble has a rainbow inside of it. Lastly, the quote is included because it adds on to my belief and I wanted to make my overall message stated and clear.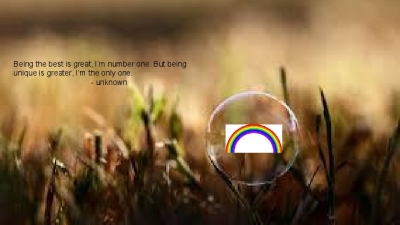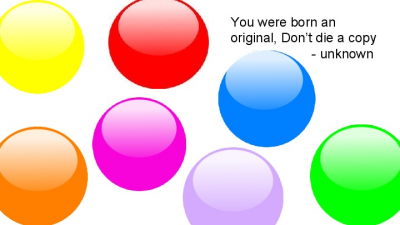 In this unit, the class was focused on how to make a slide that not only looks good, but it captures the attention of all those who look at it. At the very beginning of this unit, I was so scared. I only knew the basics of creating a slide. However, by the end of this unit, I learned all the different techniques that goes into planning slides.
To start off this unit, Ms. Hull set the class up for failure. She asked us to create a one slide slideshow. This was very difficult because she gave us no type of help. Even though we had a little introduction lesson on how slides are created to be appealing, it was really hard and my first slide was disastrous! However, after presenting, I received feedback and I believe that my second slide is much better. In the end, I learned that slides do not have to be cluttered with things to make it unique. All in all, this unit taught me a lot and it was very insightful.