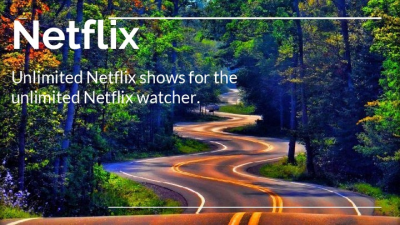 When you think about Netflix what do you think about? Mean girls or Jane the Virgin? When I think about Netflix I think about Pretty little liars and The 100. I think about all the great movies and Television shows they have. I think about The Vampire Diaries and Dexter. These are my favorite shows that interest me. I've recently discovered The 100, and it's amazing! I can understand their struggles and their sacrifices. It's amazing what people can do with their imagination.
I chose to make the background picture a road because usually an open road symbolizes that you can go anywhere and do anything. I feel that way about Netflix. Netflix has a variety of different shows and movies. It can take you anywhere from American Horror Story to How I Met Your Mother. If you're in love with Vampires like I am, watch The vampire Diaries or The Originals. I personally like The Vampire Diaries more than The Originals, but it's whatever you like.
"Unlimited Netflix shows for the unlimited Netflix watcher." These words are very powerful. Obviously Netflix is the unlimited shows, and I'm the Unlimited Netflix watcher. I chose to write this in the order that it's in because it just seems so cool like that. It seems like I'm a (as my dad says) pokemon master. Replace the pokemon part with Netflix, and I'm a Netflix master. This basically means that I'm a master in watching Netflix shows/movies. As I said in my Me Magazine, I'll always be there for Netflix, and Netflix will always be there for me.