Here's a link to my
IWEB
comparison of B
razil vs. Ecuador five point frame work.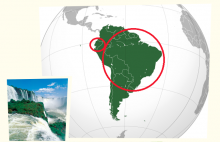 It's being present in a form of iWeb as you can see above. The whole idea of using online site to create a website is really fun and creative, but I like to kick it back old school just a little. iWeb is actually a really interesting program to use because it allows you to do as many thing as you want on it. You can pick your own template and create your own web page without staying on the internet for too long and you also don't have to worry about the internet crashing on you, deleting your hard work. iWeb live right on your computer and also save every process of your work until the final produces!
Brazil and Ecuador? Why? Why Braziladorian?
I was actually assigned to work with a group to investigate in issues in the south region and Brazil/Ecuador happened to be my expert. Since I took a lot of time investigated in these two countries, I took some interest in wanting to learn more about the two together and find out it's similarity and differences. The five point frame work gave me an opportunity to learn more about both of the countries together and individually.
I came up with an idea of making a comparison video between the two countries using footages as well as short video clips to make it more entertaining and active. However, there were not many videos that were informative and useful for this specific project. After all, the iWed didn't fail to let me down, it was a really fun and interesting tool for me to use during the process of building this project. Perhaps it will be fun for others to view and get engage into the iWeb as well.
When giving this project, I came to a conclusion that I will enjoy putting this project together and enjoy the content part of the project. However, though out the research process, I've learned a lot about both of the countries together and individually. I would say that the research would be the best part of this project. I really enjoyed learning a little more about mining and the relationship that mining have opened Brazil as a whole. Also it was also interesting to know more about Ecuador since it's a small country from the south region that not many people talk about. I would say that learning facts between the two countries opened my eyes to see the other side of these two countries as well as how it's function.
I decided to make an iWeb to shows my knowledge and understanding form this project. However, if I were to do this project again. I would like to create a game or a video talk rather than using this method to show what I've learn to others. I feel like this is an informative way to teach others about the two countries and it's five points frame work. But it was not one of the most creative or fundamental ways to get viewers active and remember what they learned.