For my Capstone, I decided to teach a mini-course at The Franklin Institute for the current freshmen class of Science Leadership Academy. What I did to begin the process of making this course was that I had to meet with my mentor Dr. Derek Pitts, and proposed to teach an astronomy course under his supervision. What happened was we spent a good amount of time planning out what days during the Spring were I would be able to present my mini-course and what material I should cover. The material that I covered for my specific topic was the Sun in our solar system and Sun-Earth interactions. I presented my course twice over a 8 week process, other days were for reflection on my teaching and how I worked with the students. What I learned over time is that when it comes to teaching students about a topic that they do not know, their level of inquiry is higher then those who do know the material presented to them.
Click
here
for Mini-Course Pictures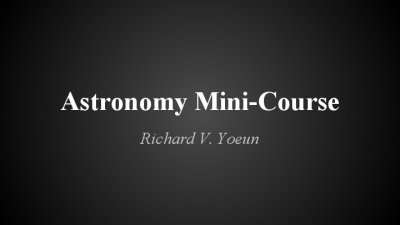 Capstone Annotated Bibliography:
Addison, Kevin. "SDO | Solar Dynamics Observatory." SDO | Solar Dynamics Observatory. N.p., n.d. Web. 28 Jan. 2015. <http://sdo.gsfc.nasa.gov/>.
Working in tandem with my presentation, this website helped me demonstrate different views of the Sun with different filters on. What I wanted to get into with the different filters is how to see specific parts of the Sun or Sun Phenomenon without harming our eyes. I went back and forth talking about both Mylar Filter and Hydrogen Alpha Filter. On days that I did not have full access to the Zeiss Telescope, which is The Franklin Institute's main telescope used mostly to view the Sun with either the Hydrogen Alpha or Mylar. This site gives me a good way to let the students view the Sun without having to walk to the telescope and having a slim chance to actually use that telescope. This website also gives a constantly updated version of different filtered views of the Sun daily.
Choi, Charles Q. "Earth's Sun: Facts About the Sun's Age, Size and History."Space.com. N.p., 20 Nov. 2014. Web. 29 Jan. 2015. <http://www.space.com%2F58-the-sun-formation-facts-and-characteristics.html>.
At first, I had to think about what I wanted to teach to my students, I remembered from my ILP that I was studying about taking pictures for The Franklin Institute and those pictures would consist of different filters over our Sun. What I then thought about was information about the Sun, because I wanted to teach my mini-course. I thought about how this website could help me convey basic and rare knowledge about our Sun. The reason why I use this source is because it has different specific breakdowns of the Sun and it's different areas, I could find it helpful.
Dufour, Richard, Robert E. Eaker, and Rebecca Dufour. Professional Learning Communities at Work: 2005 Institutes; Best Practices for Enhancing Student Achievement. Bloomington, IN: Solution Tree, 2005. Print.
With this book, this is the breakdown on how teachers could find different ways to interact with students. Some students could be the type that are willing to learn but don't know how, some could be visual learners, vocal, hands on, etc. This book also gets down on how the teachers should be able to incorporate a lot of ways to be flexible when it comes to students of different ways to learn. Introducing how teachers should act and giving insight on how they could tackle a lot of obstacles when it comes to their students. Also, the book talks about how teachers, or in this case, me, could fulfill most if not all student requests with flexibility in the classroom.
FightRegression. "Surreal Video of Aurora Borealis from ISS - Jan/Feb 2012."YouTube. YouTube, 9 Mar. 2012. Web. 29 Jan. 2015. <https://www.youtube.com/watch?v=KAIyVZoXv9M>.
This is one of the videos that I had put into my lesson plan\presentation for the students that I teach. It covers the space view of an Aurora happening in Earth's atmosphere. This video was one of few that I looked at that could give me a decent view using the International Space Station (ISS). I thought that this video would come in handy and would work well when I could explain the interaction between the Earth and the Sun. The video mostly showed the greenish teal colors of Auroras which people are most common to seeing, while there are many other colors that were not viewed commonly.
Fuchs, Miriam. "Teaching Astronomy." Personal interview. 23 Jan. 2015.
Miriam is an employee at The Franklin Institute and she has gave me information revolving around my topic that I did not know, different activities for me to get the students engaged and ways to amaze them with the common knowledge of the Sun. She specializes in study of exoplanets, classifications of different stars and a wide range of terms pertaining to her specialties. She thought of the different ways for me to provide aiding links that will have different videos that I could show to the students. She also gave me different write ups for activities that were revolving around Spectroscopy that I read and demonstrated to the students, amazing them with the different elements that could be identified.
Pahomov, Larissa. "Membership." ASCD Book: Authentic Learning in the Digital Age: Engaging Students Through Inquiry. Library of Congress, n.d. Web. 29 Jan. 2015. <http://www.ascd.org/Publications/Books/Overview/Authentic-Learning-in-the-Digital-Age.aspx>.
Mrs. Pahomov's book spoke about the way that Science Leadership Academy's way of teaching seems to be revolutionary. The ways that Science Leadership Academy approaches their students with the project based learning is something out of the ordinary as some would say. What I took from the book is the different ways that I can teach my students and bring them to a classroom that could revolve around SLA core values, though I am teaching a freshman class, they won't truly understand the core values and the main thing is to not give them the answer, but let them come up with questions that they already know answers to, get into a deeper understanding of those answers and questions. What the main thing that I am getting out of the book is that students don't want to be lectured all the time, it's better to have hands on activities or something that can get students to come together and come up with solutions on their own.
Pitts, Derrick, Sc.D. "Teaching Astronomy." Personal interview. 23 Jan. 2015.
Dr. Derrick Pitts is the Chief Astronomer at the Franklin Institute. Dr. Pitts studied at Germantown Academy in Fort Washington, PA, St. Lawrence University in Canton, NY, and La Salle University. While at La Salle, he received an Honorary Doctor of Science degree. He continued his studies and research to the extremes when it came to Astronomy, it was something out of the ordinary because he was so interested in the idea of the universe. He is highly amazed by the different wonders of the universe and does not cease to keep learning. What Dr. Derrick Pitts told me to ready me for my mini course was to engage the students with questions, be the guide for them, not the gatekeeper. Let them reach their answers together and won't have to worry about being given the answer.
Redd, Nola Taylor. "Space Weather: Sunspots, Solar Flares & Coronal Mass Ejections." Space Weather: Sunspots, Solar Flares & Coronal Mass Ejections. N.p., 13 May 2013. Web. 28 Jan. 2015. <http://www.space.com/11506-space-weather-sunspots-solar-flares-coronal-mass-ejections.html>.
When it came to looking for something that could help me explain the different phenomenon that happens on the Sun, this source was that go to source for general and in depth information. I am teaching about the different events happening on the Sun from Solar Flares, how they happen, why, etc. Same thing for Sun Spots, I am trying to break it down to the simplest ways so that the students would not be overwhelmed by what I will be saying to them but also enough that will get them to think. This source is something that I could use for the students to look over after they have my class so if they are interested in the topic that I had taught, they could continue their
Stovall, Idris, Ph.D. "Teaching Astronomy Reflection and Debriefing." Personal interview. 23 Jan. 2015.
Dr. Stovall attended Hampton University, graduated then went to University of Massachusetts-Amherst. He got his Ph.D in mathematics and now is teaching students at Penn State. His contribution to my teaching plan was techniques that I can use on the students to veer them towards the right direction when it comes to difficult questions. Coming up with lesson plan that could reach out towards their young minds. Using the various methods and techniques, he also informed me in ways I can help the students bring about inquiry about my topic. What things should be asked at certain moments, how can I turn that into something else. Follow up questions and other thought provoking questions.
Tate, Karl. "Anatomy of Sun Storms & Solar Flares (Infographic)."Space.com. N.p., 4 Jan. 2013. Web. 29 Jan. 2015. <http://www.space.com/12047-solar-flares-sun-storms-space-weather-infographic.html>.
When it came to using this infographic, I was a bit unsure about how I could use this to my advantage on teaching my students, what I did end up doing with this is going on a quick walk through with the students to view this infographic about Solar Storms and Flares. It's something that is good to know about and could be fun at times. This infographic also goes by the main sections of Sun Activity that I went through during my teaching, it gives brief explanation so the students could understand it better and give some visuals so that students that do not work well with just reading words or hearing it could see and start to get ideas of what is being shown to them.