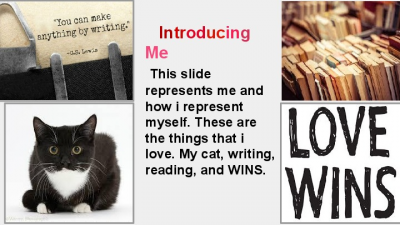 During this project i learned about different kinds of slides. You can do different colors, hence the title, moving pictures or videos, and about the different shades you do in different lights. For example, in the daytime or bright light, you should do duller or darker colors. However if you are in darker light, you should do brighter colors.
In my new slide, i didn't put too many words in and i put more visual stuff. I still kept the books but instead i put multiple books. I also changed the background to a very light gray and put a darker border of gray around the pictures. In the slide that you see the title is supposed to be all on one line, but the size of the image messed it up.
During this project, research is very important. I say this because without it we wouldn't know what we are doing. If Ms. Hull didn't set us up to fail, we would have failed on a very important project. In the beginning when i did my research, i didn´t know how important it would be.
If we didn't do research, we would have done a mess, colors would've been all over the place and we would bleed everything, etc.
Hope you like this slide better than the other one. Thanks for reading.