My name is Alexis McCormick, I am currently a senior at Science Leadership Academy. I'm part of Rosalind Echols' wonderful advisory. When it's time to be a senior at SLA, everyone is required to do a year-long project that will be presented to other classes and teachers from around the school. This project isn't easy at all! A capstone is supposed to be meaningful, showcase what was learned over the past four years at a project-based school, give back to the community, and something that is interesting. For my own contribution, I created a piece called "Rockets Wise Words" that has work that is established with both the senior class of 2015 as well as myself. My original plan for my SLA senior time capsule fell through, but with a little twist, I was still able to incorporate the senior class. For my capstone, a physical piece that is displayed near the office at SLA will hold positive, encouraging messages from the class of 2015 to the younger classmen of our school. The bigger picture of my project is not to have people to walk by and just observe my piece but to actually read what was written and hopefully use in later years of being a student at SLA as well as later in life. Many students wrote tips, tricks, and messages that helped them advance to senior year and hope to help others. "Rockets Wise Words" will be a piece that can show other classes that they can move forward and get their goals accomplished.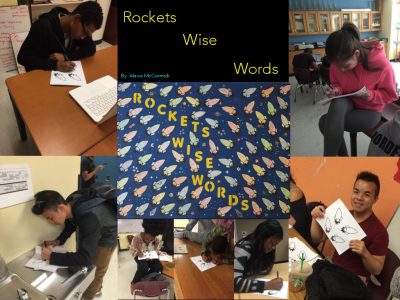 Bibliography
Steve Hoefer, dir. "Zoey 101: Season 2, Episode 2." Time Capsule. Nickelodeon. Http://www.imdb.com/title/tt0754877/, 18 Sept. 2005. Television.
This preteen based show is located on nickelodeon taken place in an on campus high school that tells the lives of a group of friends. On season, two episode two the story line was taken place in a class room with a different kind of assignment. The assignment that was given was to create a inclass time capsule. Freshmen year I watched this episode and thought about my senior capstone. Creating a time capsule for the class of 2015 which would hopefully be continued as a tradition for each senior class at Science Leadership Academy. The main character Zoey created a documentary of her life so for my part in the time capsule I will be creating a video that tells my four years at SLA.
"How to Create a Time Capsule." WikiHow. N.p., 02 Jan. 2007. Web. <http://www.wikihow.com/Create-a-Time-Capsule>.
This website is very informative and shows different ideas of how to create time capsules. The website lays out step by step on how to create a successful time capsule and ways to make sure people are actually excited for the time capsule altogether. Something else that was also very helpful that was shown in the website is the fact that there are sample letters that are done to help lay out different ideas that you may want to include in a write up. This is good because for the capstone that is being created for each contributor there is a short write up to explain why which ever item was put into the 2015 time capsule and what does it represent the year at SLA for that person.
Seibert, Patricia. We Were Here: A Short History of Time Capsules. Brookfield, CT: Millbrook, 2002. Print.
This is a book that is very helpful in many different ways. It tells about different time periods and holding different types of time capsules. This book is basically the backstory of a time capsule. If you want to know anything about a time capsule, what was the first time capsule ever made, of just different ways to make a time capsule this book is recommended. This book was both interesting and informations also useful to get great understand on what a time capsule really is and the exact meaning for one. To see change, advantagement, disadvantagement, and what just remained the same.
Matt Novak. "First Video of the Steve Jobs Time Capsule Being Unearthed."Paleofuture. N.p., 12 Feb. 2014. Web. <http://paleofuture.gizmodo.com/first-video-of-the-steve-jobs-time-capsule-being-uneart-1521353151>
Steve Jobs was someone who created a very big change in a lot of people's lives today. The creator of apple made a time capsule that was recently dug up with very unique items inside. Being placed in the groups for years this time capsule made many people gather because of the significant meaning. The reaction of people who witnessed what was uncovered and that is what makes this article interesting. How surprised people were with the positive revealing moment. Something else that was also interesting about this article is that it holds different information that is laid out with great detail. Something along the lines of how much time is took to move the dirt away from the actual time capsule itself which lead to believe that it would be more successful to store the trunk for this capstone instead of actually bury it like a normal time capsule would be stored.
JAMIE FRATER. "Top 10 Incredible Time Capsules - Listverse." Listverse. N.p., 27 Apr. 2009. Web. <http://listverse.com/2009/04/27/top-10-incredible-time-capsules/>.
This article was very useful on how to create an eye catching, creative time capsule. This website links a handful of other time capsule projects that were recognized for its uniqueness and the backstory that follows it. The article links to one of the biggest time capsules that was ever created. This time capsule was an actual older model car with different things inside. From the passage it tells the backstory of wanting to see how different the world changes in the sense of cars, gasoline, and other things along that line. This article is very useful in the sense of helping thinking about different ideas that will make the capstone time capsule different, unique, and memorable so it will be continued with the future SLA senior classes.
Jefferson Graham. "Redirecting." Redirecting. N.p., 20 Aug. 2012. Web. <http://www.google.com/url?q=http%3A%2F%2Fwww.usatoday.com%2Fstory%2Ftech%2Fcolumnist%2Ftalkingtech%2F2014%2F08%2F20%2Fhow-to-make-a-smartphone-time-capsule-video%2F14262385%2F&sa=D&sntz=1&usg=AFQjCNEyJBvWvRd02Xh0JtzESQGdRuoM5w>.
This was a documentary that was built about a digital time capsule. The reason why this source would be useful for this capstone is because the plan is to create a documentary of the past years at SLA. Recommendations were made, thoughts pointed out, and different ideas that would be helpful when creating the actual documentary was a large part of this source. Something that is relatable was that the digital time capsule was made for a woman who is about to start her journey in college. It was made to be looked back on a few years in the future to see what was accomplished and to be recognized.
Jill Neimark. "How Faith – and Fear – Created the World's First Time Capsule - The Crux." The Crux. N.p., 08 Aug. 2014. Web. <http://blogs.discovermagazine.com/crux/2014/08/08/worlds-first-time-capsule/#.VMqUdV7F8Yc>.
This article holds facts about the first ever time capsule. This is relevant because it is important to understand where things originated from and how much they advanced throughout the years went by. The article explain in great detail what was in the time capsule itself and what each item importance to the word today. The article was extremely helpful information that concludes on how things can change so much and the thought that should be put behind each and every item that is being place in the time capsule to be looked on in a few years in the future.
"Budget Cooking: Feed 4 for $10." Cooking Light. N.p., n.d. Web. 29 Jan. 2015. <http://www.cookinglight.com/food/everyday-menus/healthy-budget-recipes/chicken-rice-mushrooms-budget-cooking-recipe>.
Marshal Brian created a time capsule of his life. Each an every day was documented because each day was another chance to experience and look back on. The purpose for his time capsule was for his children to look back on and see how beautiful life was when they were too young to remember and notice it. This website holds different meaningful clips of his life that helps generate thoughts that could be including in the documentary of my life at SLA. There is no limit to what has to be placed in the time capsule. This video helps gather ideas to propose to the students that are going to contribute to the capstone time capsule of 2015.
"WELCOME ABOARD." TimeCapsuleToMars. (TC2M), n.d. Web. <http://www.timecapsuletomars.com/>.
An extremely interesting project that was came acrossed dealt with sending a time capsule to the planet mars. The creators of this project was student based and meant to be an exploring project. When you think of sending a time capsule to mars you think about that being an adventure itself but there is more meaning to this project. The creators wanted to show the people in the future who travel to mar see how much the earth changes in the future and what different things that could be looked back on. The mission is to raise money and make this happen. Though this project doesn't really contribute that much to my project it does show a good message. It shows there the sky's the limit to anything, literally.
Zurowski. "My Time Capsule Project." N.p., n.d. Web. <http%3A%2F%2Fczurowski.weebly.com%2Fproject-1--time-capsule.html%5C>.
This was a website that was created for a project done for an assignment for school. This source was a different way of creating a fully digital way of view the capstone time capsule for the 2015 class. This website was very useful in the way of how to lay things out for a final product and what I should and should not include to make the project to make it as successful as it could be. The project had a high tech way of turning something that you bury for memory to the changing way of technology. Throughout the website there were different tips that were suggested that turned the creators time capsule as successful as it was.