For my Macbeth Creative Project, I decided to create a Playbill. I choose this option because I thought it would be interesting to create a modern version of Macbeth with actors that are popular today. I know that it has been done before, but I thought it would be fun since I get to make the casting decisions and such.
One of the main aspects of this project was the actors/actresses that would be bringing the play to life. What I did to decide, was sit down and really think about the personalities of the characters that we really got to know in the play, and see if I knew any actors/actresses with similar personalities, or who I think could do a good job taking on that personality. Some of the easiest casting decisions was Macbeth (Johnny Depp), Lady Macbeth (Helena Bonham-Carter), and Hecate (Maggie Smith) to name a few. I choose Johnny Depp to take on the role of Macbeth because I know how much of a versatile actor he is. I have also seen him act as many characters with such different personalities, for example, he was Edward Scissorhands in Tim Burton's Edward Scissorhands (1990) and Willy Wonka in Tim Burton's Charlie and the Chocolate Factory (2005). I also chose Helena Bonham Carter for the same reasons, her being a very versatile actress, and her ability to become very cruel and kind characters, for example, Bellatrix Lestrange in David Yates' adaptations of the final three Harry Potter books made into four movies: Harry Potter and the Order of the Phoenix, Harry Potter and the Half-Blood Prince, and Harry Potter and the Deathly Hallows Parts 1&2. I also choose Maggie Smith as the head witch because of her amazing performance as Professor McGonagall in all the Harry Potter movies.
For the costume decisions, I basically just created a set of my own choices for the tops, bottoms, etc. The website I used is called Polyvore, which contains a lot of modern day clothing, with the ability to make a collage of the ones you choose, which was perfect for this project. I chose to focus on our two main characters, Lady Macbeth and Macbeth, and choose what they might wear in this production.
When deciding on the stage layout, I kept it very simple. I based on most stage/set layouts of other productions. I also incorporated what I thought was best and made the most sense.
Lastly, for the ads, I decided to base them around the actors and actresses seen the the play. I know that when I go to see a movie or a play, I always see one of the really great performers and wonder what else they have done. That is what I based my ads around. I knew that Johnny Depp and Helena Bonham-Carter were going to be acting together in an upcoming movie, so I incorporated that, and I also know that Tim Curry stars in a movie that is celebrating their fortieth anniversary this year, so I put that in as well.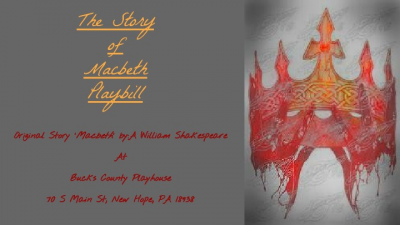 (Click on to see full playbill)