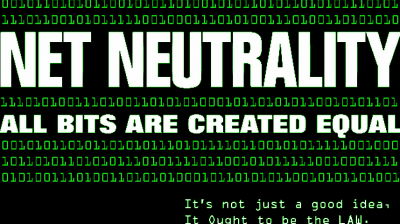 ​
The term Net Neutrality means that all data we use on the internet is treated equally. Right now, everyone on the internet has access to anything they want and any amount of it they want; all for one flat fee a month. ISPs (internet service providers) give everyone the same quality of internet, and the data that goes through the ISP is strictly the user's choice- besides ISPs only being able to slow down illegal content . Net Neutrality gives everyone a right to equal data, and it ensures an Open Internet. Currently, this means that the people own the internet and no one else.
The issue being debated right now is whether the people still get their Net Neutrality or not. Big ISPs have started to make a stink over the last year, saying that Net Neutrality wasn't thought up by a legal standpoint; so they turned the case over to the FCC (Federal Communications Committee). What has gone on from there is this: big companies want to make the internet censored and controlled by making everyone pay for 'special' services and charging for data use instead of flat fees. The proposal that was come up with is basically that, and is very dangerous because it would let the ISPs take control of the peoples' internet so that there can be lots and lots of money sucked out of it. If this happened, the internet would be slow for all who didn't pay ridiculous prices, and many people wouldn't even be able to access or say what they want online- it would all be up to the big companies.
The current issue with Net Neutrality is important for teens to know about because we are growing up in a generation where internet is essential. If we do not have proper access to it, then information and our rights is being taken away. The internet has to be a place for expression, learning, and communication so that We the People can take charge and not money-guzzling companies looking to censor and add expense to our lives. The internet was created to be run as an open place, and it was a safe-haven for all who needed their voices to be heard or access to information. Net Neutrality is important for us teens because without it, we will only be looking into a world of big companies manipulating what we see.