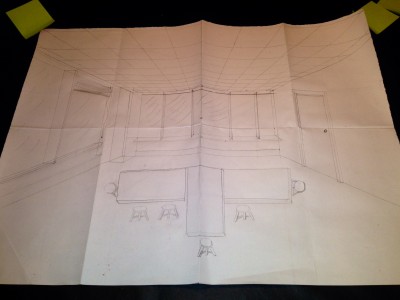 a. One thing that I learned about that I didn't know before would be how to draw 3 dimensional chairs and tables. At first it seemed like the most complicated thing to learn how to do. But once I got it down, it wasn't so bad. Another thing I learned about were orthogonal lines.
b. I think this really helped with spacing my drawings in the future. some things would just be all over the place. But when I keep everything in the right spot, it looks great because everything is where it is supposed to be.
c. If I did this this again, I would try not to draw so hard on the paper. We only got one paper. So when I messed up and had to erase, it was a huge struggle to get those lines out.
d. My advice would be to make sure that your lines are straight and accurate and are at the right measurement. If they aren't, that could totally change the perspective of the picture.
e. I think my classmates were a big help. Some of them were showing me how big to make my lines and I got to see examples of how others did it. Also, the website really helped. It delivered a step by step instruction on how to do everything.