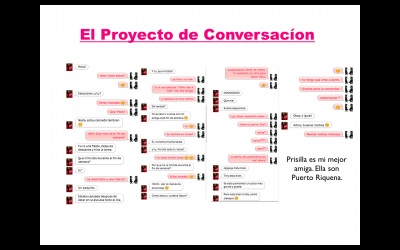 Marina Pyfrom
El 23 de Abril
D - Español 3
Antes de Conversación
:
What will your topic of conversation be?
My topic will most likely be about our weekend, discussing exactly what we did, and etc.
What are you looking forward to about this conversation?
I am really looking forward to enhancing my spanish speaking abilities. This conversation will test how much I actually know without any guidance. I will basically be thinking and writing on my toes.

What are your nervous about?
I am a little nervous that my grammar and spelling will be correct. Also I am extremely nervous about how I will come off to or impression that I'll leave or give to the native speaker. Even though I will speaking to my friend Prisiila I still want helpful feedback from her. I seriously need to expand my spanish vocabulary and accent before I go on my trip to Costa Rica this summer.
Después de Conversación
:
Who did you speak with and why did you choose them?
I spoke with my best friend Prisilla via ichat. I chose her because she will honestly have conversation with me without any help. Also she is a great speaker and I feel comfortable speaking with her.
What did you learn about them?
I learned that Prisilla likes to party and her dog Tiny. Also she knows a lot about me!
How did this interaction help you move towards achieving your goal?
This interaction helped me build more confidence with my spanish speaking abilities.
What did you do well according to your goals?
One thing that I did well according to my goals not cheating. I had no help what so ever. I was totally honest with all my responses.
What specifically do you need to improve on?
I specifically need to improve on my spelling and conjugating.
Be the first to comment