Juan Rivera
Reseña:
En el tiempo de las Mariposas Minerva y la familia de la clase obrera, ellos eran granjeros. Ellos lunchavan para tener mas poder que los otras personas, Minerva se Enamorado de un abogado que se llamaba Lio. Lio era un hombre muy guapo, inteligente y tambien carinoso. El creo en la amistad y pasear por los poder. Un hombre que era el dictator de la República Dominicana no le gusta a los haitianos. El creo que todo de los haitianos. En los ojos de minerva ella creo que todos eran lo mismo personas, que todo tiene que tener la misma derecha. Eso es porque ella fue a estudiar para ser un abogado. Ella es el primer mujer para ser una abogada. En el tiempo de Trujillo, todos creo que las Mariposas eran los mujeres mas poderes en el Republica Dominicana para poner a Trujillo en menos poder. Ellos eran el ojo y esperanza de todos. Todo dicen que viva los mariposas. En el fin de la pelicula ella fue con su hermanas a ver los maridos que estavan en el carce. Ellos duspues de ir el le dijo a ella que tener cuidadoso con todo por que estan matando a los personas. Ella dijo que nada va a pasar que todo vas estar bien. Ese mismo dia ella fue a la casa pero los ejército de trujillo paro a ellos y lo matador. 2 meses despues el fue asesinado y todo fue mejor en dominican republica.
Sam Lovett-Perkins
Reseña
La película de En el Tiempo de las Mariposas es sobre las vidas de las hermanas Mirabal. El carácter mas importante fue de Minerva Mirabal. Durante la película las personas pudieron ver su video, la interacción de derrumbar el regime de el dictador de Trujillo en el República Dominicana y su vida de amor con su esposa Manolo. Minerva tiene una amistad con otros y construyen una organización en contra de la oficina de Trujillo, en la organización ella recibie el nombre "La Mariposa". El tema mejor es luchar para sus derechos. Para mí, la actuación de los actores fue muy fantástico. Durante la película yo tuve los sentimientos de deprimido, el cariño , el compromiso, y la felicidad por los caracteres y las personas en la República Dominicana. Aunque estoy de acuerdo con la actuación, yo no estoy de acuerdo con el dirige de la película. Muchas partes tiene una problema con tiempo y no tiene sentido para mi. Finalmente, para mí la película es importante porque es sobre los eventos verdadero en el mundo. La película tiene las conexiones con las Guerras de Perejil y los problemas de las personas de Haití. Yo aprendi mucho en esta unidad y me gusta mucho la combinación de las clases de historia y español.
Nosotros construimos una disco compacto con una lista de canciónes por las enseñas en la película. Debajo de es el arte por el forro y las conciónes.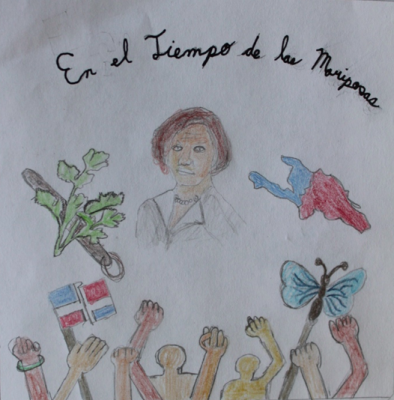 La Canción;
We Are The World; Michael Jackson
Descripciones; Mucha
gente sufriendo en el poder de Trujillo por que el era un hombre sin corazón. El era un animal pero el actuaría como el era el mejor hombre para ser en control de el República Dominicana.
La canción "
We Are The World; Michael Jackson
" presenta el mundo entero junto para ser un unida grande junto para hacer mejor para todas los personas. En el comienzo de el película, ves todo a los personas pobre y sufriendo. Ve a todo los personas de Haití sufriendo y teniendo un mal tiempo en el poder de Trujillo porque el los mata y los abusa.
Canción;
I Could fall In Love; Selena
Descripciones;
Leo era un abogado que creo que los haitians necesitan una mejor futuro no solo para ellos pero por los otro haitians que vienen en el futuro de el mundo. Minerva creo que el era un bien muchacho y tambien es muy inteligente. no solo eso ella quiere ser un abogado tambien, so ella creo que por el ella puede ser el primera mujer abugida. Y como creo eso mismo paso. Esta canción es una canción de amor, era enamorado con Leo cuando ella lo veo por el primera vez. El amor no es para todo y para ella era todo. Le quiero mucho pero cuando veo que el era muerto no puede ser triste so trato de siger el camino de ella y de el amor.
Canción;
Ese hombre; La India
Descripciones;
Trujillo era un hombre muy bueno para todas las personas pero nadie sabe que persona el verdadero es en persona. El estuvo bailando con Minerva en la fiesta por que ella era un visita nueva y ella fue a bailar con Trujillo. El le toco en una forma mala y ella fue a
enfrentarse con
el so ella le dio a el en la cara. Esta canción dice que el hombre no tiene un valor para nada y que el es un hombre malo. Como en la película, trujillo se ser bueno pero en el tiempo el era uno de los hombres mas sucio.
Canción;
Daddy's Little Girl; Frankie J
Descripciones;
El padre de Minerva queria ser el responsable de la actuacion de la hija de el por que ella le dio a Trujillo en la cara por que el le toca a ella en una forma sexual. Para
prevenir
la hija ir para el carse el papa era que fue para ella. La canción de Frankie J se llama "Daddy's Little Girl" es la canción que hace cuanto Minerva le quiere a el papa de ella, si el papa es muy stricto pero tambien ella le quiere mucho. El era un hombre muy fuerte y por el ser un padre bueno el se sacrifica el tiempo que el tiene para ayudar y hacer algo bueno para la hija de el.
Canción;
Deal with Dark Lord; John
Williams
Descripciones;
El escena es uno punto culminante de la pelicula. Cuando Minerva y Trujillo juegan una juego con dado. Ella hace un apuesto con Trujillo (el diablo) por su futuro. El canción es la banda sonora de la pelicula de
las Astros Guerras.
Cuando Luke Skywalker hace una apuesta con Darth Vader.
Canción;
El Amor; Tito El Bambino
Descripciones;
El día que Minerva perdio todo, fue el día que ella no tiene un amor, pero cuando ella conocio a Manolo, todo fue bien y ella estava enamorada de el. El le hacia sentir un sensación en la vida de ella, el le quieria a ella mucho con todo el corazon de el, y ella a el. Ellos un día decidido casar con el y viver juntos y tener una familia. La canción dice todo, el amor es todo para un persona y uno puede tener amor para ser muy feliz, como paso a ella, ella no amo el primera ves pero el segundo ves ella estaba enamorada.
Canción;
Handlebars / The Flobots
Descripciones;
Despues de la fatalidad de Leo, Minerva apoya una organización
en contra de
la régimen de Trujillo. Minerva se hico "La mariposa" y una cabeza de la organización. La organización creen que Truijillo es una
amenaza
de
la patria
de Hispanola. El Canción sobre una persona usa su habilidades y lucha por una causa muy importante.
Canción;
Locked Up; Akon

Descripciones;
La canción sobre cuando Minerva fue en la carcél con su hermana. Akon y la escena tiene una connexion porque los dos en una carcel. El reason por que nosotros usamos el canción es muy sencillo.
Canción; Pain ; Three Days Grace
Descripciones;
Ese canción es por la escena cuando Minerva vio su esposo Manolo encima de una cruz La canción sobre las emociones negativos de el gobierno y las guardias en el cárcel. Muchos personas en la escena tiene los
sentimientos
de dolor. Minerva experiencia dolor por su esposa y Manolo experiencia dolo fiscalmente porque su a debajo de la cruz y emocionalmente porque su esposa no puede ayudar su entonces sus organización puede vive.
Canción;
Hope; Twista
Descripciones;
La canción sobre el momento cuando Minerva y su hermana ven una
mariposa
lejos de el ventana. Uno momento de
esperanza
por el movimiento de las mariposas. Otros prisioneros el
aliado con
su organizacion.
Canción;
Danger (Been So Long) by Mystikal
Descripciones;
El momento en la película es cuando Trujillo vuelve de la casa de las hermanas. El momento es muy peligroso para Minerva. Es una confrontación muy mejor de el argumento de la pelicula. Los dos saben sobre las organizaciones del otro.
Canción;
One of Us / Joan Osborn

Descripcion;
En el final de la película cuando la régimen de Trujillo
asesinaba
las hermanas de Mirabal. En la película las hermanas antes ellas muerte, sus oran de el dio y Jesús. Uno momento terrible sin embargo es muy tranquilo. Las hermanas y dios combinar uno cuerpo. El canción es sobre la posibilidad que el dio es en el mundo. Por los victimas de
la régimen
de Trujillo
los mariposas
y Minerva es una dio en el mundo.
Canción;
Changes / 2Pac

Descripcion;

La canción es una bono por el disco compacto sobre la película. Represente la futuro y el mensaje de la película. Los personas necesita luchar por
el gobierno
que están
de acuerdo con
. Lo mas importante es la importancia de su acciones. Cuando la sociedad necesita cambiar este depende en la publica. La publica usa la
amistad
y construiré
las manifestaciones
. Buscan por otros
estar aliado con
y nunca se rinden.