Comparing "Taming of the Shrewd" to "When Harry Met Sally"
One of Shakespeare's comedic work, "Taming of the Shrewd," makes it evident that the idea of romantic love was void within a relationship and was always about control. In this play, the character Petruchio, who married Katherine for the sake of money, wants to tame Katherine into an obedient wife. A modern comedy, "When Harry Met Sally," however, celebrates romantic love. In this 1989 movie, Harry finally finds his true love as he reunites with his friend, Sally, and tried to win her heart by using some of Petruchio's tactics.
Even though Petruchio and Harry are both using the same tactics to win a maiden over, their objective and outcome are not the same. Despite having a fortune, Petruchio still wanted to expand his wealth by marrying Katherine. With an absence of love, Katherine was unhappily married to Petruchio after Petruchio wooed her by showing a sense of admiration toward her flaws. During their marriage, Petruchio uses his tactics to control Katherine. Harry, however, used these strategies to convey his love and sense of care for Sally, a woman who just stepped out of her loneliness of a relationship. Katherine strongly rejected the control in her heart that Petruchio wanted to place on her, whereas Sally feels the true warmth of love for the first time of her life.
Harry and Petruchio were both trying to win somebody over by using the same tactics. However, Harry used these tactics for love rather than control. This reflects the changed social belief that love is a necessity in a relationship.
"Say that she rail, why when I tell her plain, she sings as sweetly as a nightingale. Say she frown, I'll say she looks as clear as morning roses newly washed with dew. When I shall ask the banns, and when be married…"
(Act 2, Scene 1, pg, 87, lines 178-188)
In this quote, Petruchio came up with a plan to woo Katherine in order to get himself what he wants, her dowry. His plan was to combat every bit of Katherine's bitterness towards him into what he would express as an admiration of her. This situation shows Petruchio's shallowness in love that results a bitter relationship with Katherine, who was not pleased of his false flattering. It shows that loveless sweet talks will not result a successful wooing. However, Katherine still married Petruchio because marriage was not about love in their time period. It is like a business dealing because Petruchio's primary purpose for marrying Katherine was her dowry, not her love.
In the last scene, Sally was heart-broken because of a failed relationship with her boyfriend and comfort herself by sleeping with Harry. After the night, Harry realized that he love Sally, while Sally said that their affair was accidental. In order to build a more romantic relationship with Sally, Harry used Petruchio's sweet talks to win her over.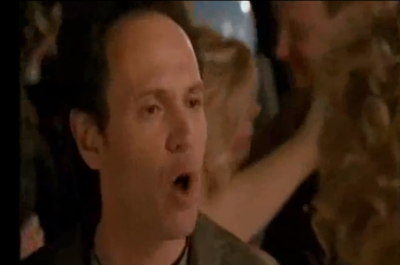 Harry proclaimed his love this way, "I love that you get cold when it's 71 degrees out. I love that it takes you an hour and a half to order a sandwich. I love that you get a little crinkle above your nose when you're looking at me like I'm nuts. I love that after I spend the day with you, I can still smell your perfume on my clothes." Unlike Petruchio who used this tactic to marry Katherine's dowry after only minutes of their encounter, Harry used this strategy efficiently based what he know about Sally these past few years. His use of this strategy hit Sally's soft spots by proclaiming that he love her flaws with an eager, serious tone. It strongly differs from Petruchio's sweet talks that are more flirtatious, rather than serious.
"I dare assure you, sir, 'tis almost two, and 'twill be supper time ere you come there [Katherine]. It shall be seven ere I go to horse. Look what I speak, or do, or think to do, You are still crossing it. Sirs, let' t alone. I will not go today, and ere I do, It shall be what o'clock I say it is [Petruchio]."
(Act 4, Scene 4, lines 196-202)
Katherine wants to go to her sister, Bianca's wedding, while Petruchio wanted to tame Katherine into obedience as he proclaimed that he should be the one deciding when they would go, not her. Petruchio used another tactic to control Katherine as he always opposes Katherine's opinions and wishes in even the smallest of things claiming that it is seven o'clock instead of two. This constant opposition makes Katherine unsatisfied at heart while being falsely obedient on the outside. This constant quarrel for control caused tension in the relationship rather than building a sense of closeness between their relationship.
Harry uses the same tactics on Sally as he wants to get Sally's attention and putting his beliefs on Sally for her own benefit in a causal, humorous way.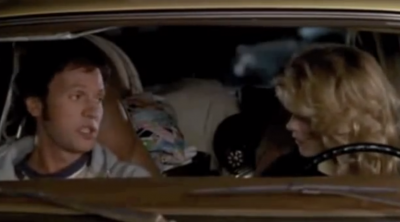 In this early scene, Henry argued with Sally in the car about the necessity of sadness rather than complete happiness in life. He said, "You ever think about death...I spent hours. I spent days. When the shit comes down, I am going to be prepare and you're not. That is what I'm saying [Henry to Sally]. In the meantime, you're going to be ruining your life waiting for it [Sally to Henry]." This quarrel might seem childish and random, but, Harry expressed his care for Sally because she was happily working herself to death.
Henry win Sally over wholeheartedly by using Petruchio's tactics because he use it for the purpose of love and care for Sally. This successful proposal in the end of the movie reflects the society's point of view on how it was love is necessity for a romantic relationship to be born. In Petruchio's case, his society views marriage and relationship as a form of control or getting profit from their wives' family. Even if Petruchio did get what he wants in the end, Katherine would still hold a secret grudge against Petruchio. If "The Taming of the Shrewd," happens in the modern world, Petruchio's friends and family would have not approve this relationship as marriage were now to be thought as a lifelong commitment of love instead of impure intentions, like gaining wealth.
Work Citations:
Shakespeare, William. Taming of the Shrewd. Ed. Barbara A. Mowat and Paul Werstine. New York: Washington Square, 1992. Print.
When Harry Met Sally. Dir. Rob Reiner. Perf. Billy Crystal, Meg Ryan, and Carrie Fisher. 1989. Web. 30 Nov. 2013. <https://www.youtube.com/watch?v=N5pci2fE96M>.