​For my third quarter the primary focus of my quarter was on spray painting, with a budding interest in fashion design.
Having enrolled at the University of Pennsylvania as a Young Scholar, I was given many things from the University; the right to visit the many prestigious libraries, facilities, and events on campus. More importantly, I had to obtain a student ID card to fully utilize these unique components of my experience at Penn. Having a Penn ID card allowed me to fully utilize all of the resources at my potential and.. obtaining spray paint. My ID card for Penn didn't include my birthdate, but just stated that I was an undergraduate at the University. Seeing this as an opportunity to utilize rights and activities that minors aren't legally able to take part in, I decided to buy some spray paint, as spray painting and graffiti have always been a form of art I have had an appreciation for, after seeing Keith Haring's mural in South Philly.
Though I have a great appreciation of the late Keith Haring and the icons that he created, I wanted to create something unique that would have an association with myself, while sustaining my own originality. I did not want to do a tag or something of that sort, as I have no appreciation for vandalizing property with a tag. I begun experimenting with different stencils that I would spray paint. To better understand how to properly cut and spray, I often did simple, symmetrical objects, such as circles and squares till I become more comfortable cutting more complex stencils, as I did with the sniper one and camera shutter.
This project was essentially an adaption of my final second quarter project, which involved spray painting. I learned from that project using cardboard cutouts were not ideal to use as stencils, as they were difficult to cut, and got wet and weathered with each use of paint. I instead used stenciling paper this time, as it would be easier to cut, and much more durable, capable of dealing with bending and liquid, where the cardboard was unable to. By modifying the material used as a stencil, I was able to create higher quality artwork than I was able to produce last quarter.
The first stencil I created was a circular, cartoonish bomb looking stencil, similar in appearance to 'The Hundreds' iconic bomb. My bomb lacked a face though, unlike 'The Hundreds' icon. After creating this stencil, I had a request to create a Fluer De Lis stencil for Whitney. For this I decided to play it safe and not free hand the icon, but instead printed out a copy, traced over it on my stenciling paper, then cut out the stencil. The second stencil set that I created was inspired by an image I saw on tumblr of a camera shutter. This stencil I did entirely free hand, creating several different parts of the shutter, which ended at the center, to form a circle. This was one of my favorite stencils that I made. After creating this stencil, I made a stencil that was inspired by reading The Nuer, by E. E. Evans-Pritchard. I created a stencil of that was inspired by The Nuer and by Keith Haring's stencils. The results from this were a stencil that was similar to Keith Haring's work, but very different at the same time.
My final stencil that I created this quarter were a variety of different sniper icon ones. My process for this was to find various different circular objects, and trace them on separate pieces of paper. After I had a collective amount of different sized circles, I began to trace them all onto one stencil. My original idea was to just have a ton of circles, some that were sprayed, getting smaller and smaller. Though the problem with this was that I would be unable to create this sort of stencil. I know realize that this would have been possible, if I simply cut out the original circular stencils that I collected, but no matter, I was still content with the final result. Realizing at the time there was no other option than to draw two lines between the stencils to add the support and connect the different circles, my stencil began to take the shape of a sniper icon. I was happy with this result.
Towards the end of this quarter, I began to develop a serious interest in clothing. I've always been told I have quite an eye for finding stylish and unique pieces of clothing, and I finally decided to utilize my ideas for taste to create something. I began to develop and design my own clothing line. Most of which are hats and variations of denim jackets. I chose hats due to my new found obsession with Supreme brand hats and their unique, 5-panel designs. Denim jackets I have always loved to wear, and see them as a very versatile piece of clothing. Though my ideas for these hats and jackets are still developing, I have created two hat designs, and one jacket design. The first hat design is a five panel hat with a more modern cameo design, that is on the brim of the hat. The primary color of the hat comes in three different colors, black, red or orange. The second hat design is different from the other one. The brim and sides of the hat are a navy blue, while the middle of the hat is a fluorescent red. I chose to do a dark-highlight color scheme for this hat, as I believe if the hat was just navy blue, it would just be boring, and if it were just fluorescent red, it would be too obnoxious to wear. the navy blue helps tone down the effects of the red.
Though I was never able to create my own iconic graffiti insignia, I was happy with where the project went. Graffiti was a temporary interest of mine, but I'm hoping that designing stays with me beyond the third and fourth quarter. For the fourth quarter I plan on expanding my design and items in the collection that I have created.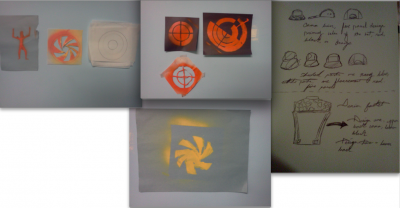 Be the first to comment