Hello everyone! We're back for our final post on this little expedition to bring about change! So, previously we've discussed what asexuality is, what erasure means and its effects on people, and we also got a first-hand glance at how well known these topics are. The results were rather interesting. You can read more about those in my
first
and
second
blog posts.
Alright! So, recently (May 28th) I gave a visual and oral presentation to my English class. I told everyone what an asexual was, and dived pretty deep into the complex subcategories of this sexual orientation. I also gave them a lesson on what erasure was, why it is important to know about it, and what they can do to make sure they never commit such a hate crime. Surprisingly, the presentation as a whole seemed to go over extremely well with the class. That was great to see! Everyone gave a nice big round of applause, and I even got a few requests to show some people the slideshow again, as well as numerous compliments about how brave and amazing my presentation was. Talk about a humble brag! Sorry about that. Anyways, I think this was a great way to spread some ace awareness, and reminded me of that
TEDx Talk
about erasure that the wonderful Lisa Zhang put together. There are many things people have been doing to raise awareness for this issue, including that Ted Talk, as well as videos, forum discussions, and full blown websites! It's crazy how much people are willing to spread this information, but equally as crazy is how little people know about it despite all of these efforts.
I believe this may be because it is discussed in locations that center around asexuality, and at that point your kind of preaching to the choir. That's why I chose to present to my classmates, because asexuality isn't a topic that comes up all that often in my school. One thing I wish I had done differently however was to find a way to present to the entire 9th grade, as opposed to just 1/4 of it. Despite that setback, I'm still really happy that I was able to accomplish this, and really hope that aseuxality becomes a relevant topic in our school because of it, especially next year in October during Asexuality Awareness Week. It would be great to see tons of people supporting that. And if there's one thing I've learned about my classmates, it's that they tend to be rather open-minded about that kind of thing.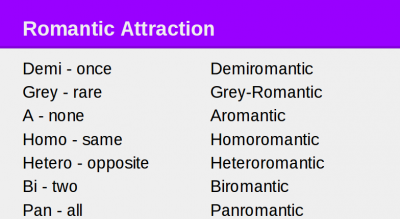 One of the slides from my presentation
Before I wrap this post up, I feel that I should touch on something that i found in my research for this presentation. As you may or may not know, there are many different types of attraction, other than just sexual. They cover all sorts of ways to interact with other human beings that I found rather interesting. You should definitely check out
this site
to see a full description of each one.
That's all I have to say. Thanks for sticking around for this! Until next time, CJ out!
A full list of sources can be found here.