​
For my final Independent Reading Project I created a children's story. It features thee monkeys, Quamisodo, Clause, and Esleramda. The story is a spin off of the Hunchback of Notre-Dame; more specifically, the theme of assuming one's character by his or her appearance.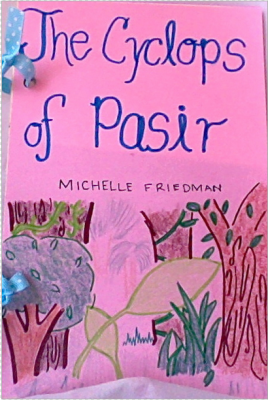 In the "Author's Note" this is what I wrote: "
This story is based on the story Hunchback of Notre-Dame, by Victor Hugo. He is also the author of the world famous musical and movie Lés Miserables. The story is set in Paris in the early 1800s. It is a historical story about Quasimodo, a very handicapped and ugly man; Claude Frollo, his father and the town priest; La Esmeralda, an unconventionally beautiful gypsy street performer; and a number of other men and women who all seem to want something to do with La Esmeralda. The Archdeacon Claude Frollo is a very compassionate and intelligent man who falls into a path of darkness after realizing that he failed to raise Quasimodo (his adopted son) and Jehan (his little brother). Quasimodo works the bells in a beautiful cathedral and becomes deaf; this, among plenty of other attributes, is why nearly everybody despises him. La Esmeralda is a Bohemian gypsy who performs in the streets with her little goat; together they perform mind-blowing tricks (which are believed to be witchcraft by many of the spectators).
Between La Esmeralda and the men of the town there is much personal (especially romantic) conflict. There is also heartbreaking conflict between Claude Frollo and Quasimodo, and the rest of the townspeople; the townspeople treat the men cruelly. This story has many fascinating themes, but the best of them all is to "not judge a book by its cover". Claude Frollo is a priest so people assume he is sweet and gentle, yet by the time he reaches 40, he is a crooked, horrible and secretive man. On the flipside, Quasimodo does not speak much because he is deaf and only has one eye. He also has a hunchback and walks awkwardly so people assume that he is an alien, mean and wild man. Yet, Quasimodo is a truly genuinely caring person."
Of all of the characters in the story, I could relate most of all to Phoebus, the promiscuous soldier. Don't get me wrong, I do not relate to him because we are both promiscuous; I can relate to him because when he is among the beautiful, rich and fancy ladies, he feels very uncomfortable, even though he was raised very properly. He feels more comfortable speaking roughly, dressing casually, and interacting with the average people. I went to a private Jewish school for ten years and now that I have finally left, I will always feel out of place with my friends that still go to private Jewish schools. The way Phoebus feels is nearly exactly the same way that I have grown to feel nowadays. It's not that I have a preference for people who are not "rich and Jewish", but it's just simpler and more fun for me to hang out with other kinds of people too.
My favorite character is easily Claude Frollo. Claude Frollo is my favorite character for only two reasons. Firstly, I find it mind-blowing that a person can transform from such a compassionate and eager-to-learn young man to a twisted and impudent man. He used to study tirelessly at the University; he adopted his younger brother at the age of 16 because their parents had died (due to the plague); and on top of that, he took in the discarded child, Quasimodo, and raised him and loved him as his own. Then, once his boys grow up, he turns to studying alchemy in the tall towers of the cathedral, Notre-Dame. Now he rarely emerges from his workspace. When people try to speak to him, he is often unresponsive or just rude and frightening. The only exception to this kind of behavior is Quasimodo; I think this is because they both receive hostility from the people of Paris. The second reason that I enjoy Claude Frollo so much is because he is so complex and unbelievable intelligent.
Finally, I think this book is fantastic, and I would strongly recommend it to anybody who is willing to deal with the somewhat tedious writing style of Victor Hugo. The only (minor) issue that I found with this book is that it had a bit too much historical narration for my taste. At the beginning I felt that it was tough to read through all of the non-fiction, but I did it anyway because I really wanted to get to the rest of the story. It was undoubtedly worth the strain. In conclusion, this is a marvelous story filled with intricately built characters as well as a beautifully written description of the setting. This book is great for anybody who is prepared and eager to read the story despite the slightly tiresome historical reports.