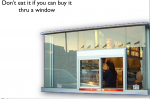 Analysis:
Fried chicken has been a very common entree for all types of cultures that has been around for a while. There are many different twist to the way it can be prepared but it comes down to a few simple ingredients. Chicken, Flour and oil. Since it is made with such simple ingredients it makes it both cheap and a very common food. However it is not very healthy. The chicken its self is healthy but ounce it is covered in four and cooked in the vegetable oil it is then deep fried and makes eating fried
chicken a lot worse for your body. There are different ways to prepare chicken that will cause it to be more healthy food choice for example if it were to be baked then you would still be able to consume all of the protein and nutrition form the chicken without taking in the bad fatty party of the deep fried flour that coats the fried chicken.
Reflection:
Something that i have learned from this unit is that our food choices can affect a lot more then just our weight. The foods we eat everyday can be one of the biggest contributors to things like heart disease and diabetes later on in our life. I also learned that Americans consume more sugar annually than any other country in the world. This stood out to me the most because it made me really stop and think about all of the things that we eat that have sugar in them or high fructose corn syrup which is the same as sugar. We eat foods that are sweet and high in sugar because it is cheap and we are just so used to them being in our everyday diet. Making diet changes could be so simple and be able to help you prevent dying form heart disease. What shocks me the most is that people are aware what these bad foods do to us but yet we still decide to eat them completely ignoring the damage that is being done for life.