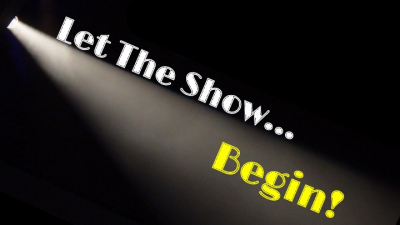 Before making this slide, I read the Presentation Zen website. Of all of the tips and tricks, a couple of them really stood out to me. The importance of contrast was not lost on me, and I made sure to apply it in my slide. The rule of thirds, because I didn't really understand it at first, became something for me to research. I made sure to include big text, and to not include too many elements.
It took me a while to consider what to put on my slide, because it is difficult to sum up a personality in a couple of words and an image or two, but I finally decided on a stage theme, because for me life is a show. I decided to start in the upper left section of the grid, and use the letters to move my way through the rest of the sections, ending in the bottom right with the word "begin" caught in the stage light's beam.
The tips I read in Presentation Zen's website helped me make the decisions about color contrast and spacing, and my own judgement about what looked better helped me with some of the placing. I make collages called "sets" on a site called Polyvore, and I also used what I learned about making visually appealing "sets" when making this slide.
I was torn about whether or not to animate my slide, because I know that it many a time distracts the audience from the main point, but for this particular slide, I thought that the animation would enhance the audience's understanding, so I decided to include animation. Because we had to upload our presentation as a PDF, the animation did not transfer, but I had the light and then the word "begin" fade in so as to show the lights coming on.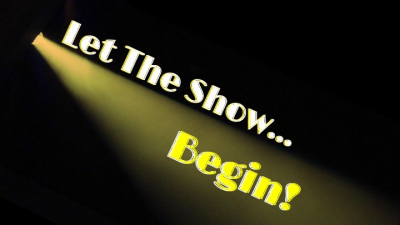 As part of collaboration and learning from others, we presented our slides for a class critique. While for the most part my slide was well-liked, I got a few suggestions about how I could incorporate the yellow by changing the color of the light and maybe adding a stroke, or outline to my white letters, so I took those suggestions and made them a part of my slide. I used www.pixlr.com to edit the color of the light, and doubled up the words (making one yellow) for the appearance of a yellow stroke.