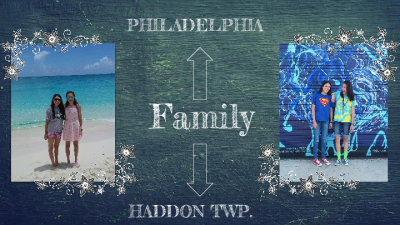 When I was offered critiques, I learned that making pictures bigger gives the audience something to focus on while also focusing on the big words. By hearing my pictures were too small I made the pictures bigger so the audience can really see them. I changed the positioning of everything, and added a new border around my pictures that was still flowers like my original slide. People said they liked "family" in the middle, so I kept that and put my two cities on the top and bottom of that. The arrows show that family is represented through those two places.
I actually thought that my other slide was good, I put a lot of thought into it, and was very proud of it. Then I realized that some things didn't make sense, like having the cat and basketball made it look bad. So I took them out and made everything simpler. I also asked my friends and teachers about what they thought and kept asking for advice so that really helped me.
Even though I changed the slide I still have most of the same design elements, like symmetry, texture, color, sizing, contrast, framing, and repetition. These design elements make the slide have more thought and care. Overall I think my slide is more presentable looks simpler but in a good way.