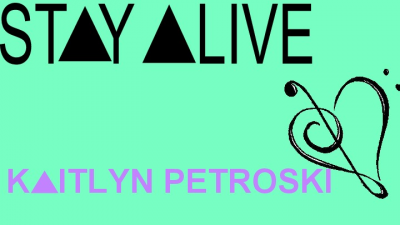 I decided to keep my slide pretty simplistic for multiple reasons. One, because it's more aesthetically pleasing; and two, because it kind of represents me. I typically don't like complicated things, so in a slide all about me obviously it wouldn't be complicated.
There is a lot of empty space in my slide and not much variety in color. The colors I chose seem to go together very well. Normally, I would feel like there isn't enough content to my slide, but with this one I'm fine with it.
In one corner of my slide, it has a treble clef and a bass clef put together to look like a heart. Music is my entire life, I wouldn't be able to live without it. On the tops, it says "Stay alive". Simply put, this is advice. There is a band called Twenty One Pilots, they mean so much to me it's hard to describe. "Stay alive" Tyler Joseph, the lead singer of the band, in both a song and a tweet. One lyric containing it is "Stay alive for me" and when I heard that lyrics it hit me like a truck. The lyric has stuck with me since I first heard it.