Since my last few blog post a lot has happened. Let me give you a refreshment on my last two blogs. So in my first blog post I talked about why I chose to do my project on pediatric cancer and the scary statistics that affect teens our age each day. In my second blog post I talked about my interview with a cancer patient.
Currently there is a full month dedicated to pediatric cancer awareness. It's September. In September of 2014 President Barack Obama proclaimed September, the month to honor and support those who have or have had cancer. The President also signed the Gabriella Miller Kids First Research Act earlier in 2014 that gives ten years for cancer research. I think this was a huge deal for everyone connected with pediatric cancer and in the medical field. I think it's a huge step in research, because it gives ten years of research that could potentially find a cure to a disease that has killed so many people over a long period of time. I think it also shows people who have untreatable cancer that they weren't forgotten about.
A really huge part of the pediatric cancer awareness is the Alex Lemonade Foundation. Alex was a girl from Manchester, Connecticut who was diagnosed with neuroblastoma just before she turned one years old. At the age of five Alex started a lemonade stand with her brother to raise money for children with cancer. Every year she and her family held an annual lemonade stand fundraiser. At the age of eight Alex sadly died at her home in Wynnewood, Pennsylvania with her family by her side. Since the opening of her stand the Alex Lemonade Stand Foundation has raised over 100 million dollars. I think this foundation shows people with cancer that they can do anything in life and too never give up. Alex never gave up and fought for other people even though she was struggling.
For my agent of change I decided to do care packages. This was not my first idea. My initial plan was to create cards for cancer patients and take them to the Children's Hospital of Philadelphia (CHOP). I was really looking forward to doing this but after a few phone calls and emails I was told I couldn't do that due to CHOP's sanitation policy which was understandable. So with only a week left to turn this project in my teacher and I decided on a care package. At first I was hesitant about it because I didn't know how I was actually changing something, but with only a week left I went with it.
Who could I give this too? The first person to come to my head was Aliya, the girl I interview in my second blog. The other person was a senior at my school who I heard about but had not met named Matt.
This project called for a trip to the dollar store. Before the dollar store I googled several different images of care packages, in which they all looked similar. At the dollar store I bought about ten dollars worth of snacks and candy for both Aliya and Matt. I also bought a card so I could write them a letter to show that I care about them.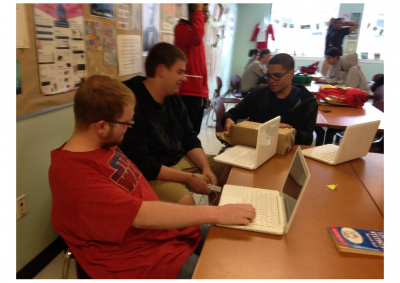 Matt in the red shirt.
Unfortunately, I was unable to give the care package to Aliya but I will as soon as I'm able to, but I was able to give Matt his. It took me two days to find Matt, but during that time I was so anxious to see his reaction. When I handed Matt his care package which I wrapped with brown paper he was also very nervous. Matt was so nervous he got his friend to open the package. When his friend opened it Matt was so surprised and shocked, it was amazing. A few minutes later Matt sent me an email and thank me.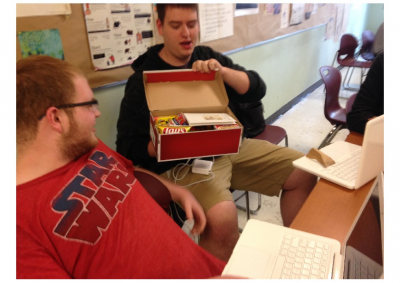 I'm very excited my Agent of Change was successful. Doing this I learned that you should always expect the unexpected. When I went to do my interview I didn't think a girl with cancer would be in such great spirits. This project taught me to value life more and be grateful for what I have. I also learned that the small things you do can be a huge change for someone. I wish I could have reached out to a broader audience. I think there's so much more to do but things are going in the right direction.

You can view my annotated bibliography here!